Every WordPress site needs some power play to keep up running everyday operations. Plugins play a very important role in this game. Smartly designed software is a key part of all this. Here, we have short-listed a handful of must-have plugins, you may need every then and now.
Duplicator – WordPress Migration Plugin
Top of the list, specially when you are migrating your site between servers. Either it's your localhost or an online host. Duplicator gives the ability to migrate, copy, move or clone a site from one location to another and also serves as a simple backup utility. It handles both serialized and base64 serialized string replacement. WordPress migration and WordPress backups are easily handled by this plugin.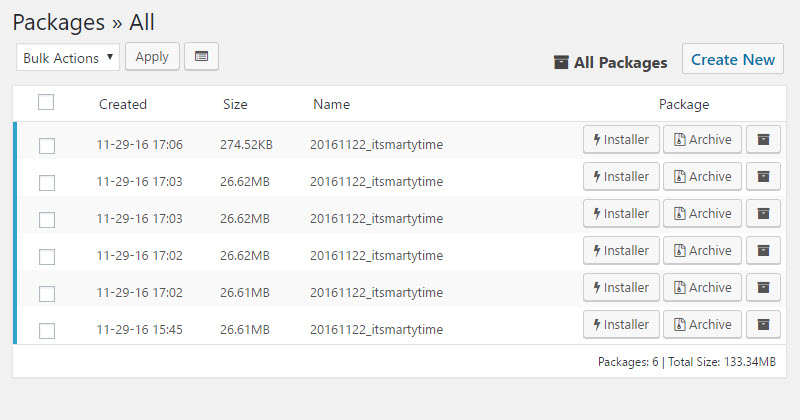 Duplicator creates a package that bundles all the site's plugins, themes, content, database and WordPress files into a simple zip file called a package. This package can then be used to easily migrate a WordPress site to any location you wish. Move on the same server, across servers and pretty much any location a WordPress site can be hosted. WordPress is not required for installation since the package contains all site files.
There are 2 versions available for this plugin – free and pro. Free plugin is quite handy, if you only need to migrate or backup small sites. While, pro version comes with excitingly enhanced features.
Click here to download and learn more about the plugin.
Popup by Supsystic
Engaging your site visitors and users is another important part of the website. Popup by Supsystic with Popup Builder help you to get newsletter subscribers, promote new products, deliver special offers and get more social followers.
It comes with some of the nicest features like Mobile-ready Popup Templates, Popup Triggers, When to show / close popup, whom to show, show on next pages, time to display, Different Popup types, Popup Placement, Modal Popup, Full Screen Popup, Info Bar, Fly-in, Slide In Popup and lot more.
Click here to download and learn more about Popup.
Crayon Syntax Highlighter
Every needed to present example code to your blog readers? Usually standard post editor allows to format the code in a specific format. But what if, you need to make the code stand out.
Crayon Syntax Highlighter built in PHP and jQuery that supports customizable languages and themes.
It can highlight from a URL, or WordPress post text. Crayon makes it easy to manage Language files and define custom language elements with regular expressions.
There're much more exciting features, go get it.
FakerPress
Whenever you create a new Theme or Plugin you will always need to create custom data to test whether your plugin is working or not, and as Developers ourselves we had this problem quite often.
FakerPress plugin fills this gap where you have problem with a good solution both for Developers and for Users of WordPress. You can create dummy content for Posts, Custom Post Types, Meta Data, Featured Image, Users, Tags, Categories, Comments and Custom Comment Types.
This plugin is available for free download.
Debug Bar Actions and Filters Addon
This plugin adds two more tabs in the Debug Bar to display hooks (Actions and Filters) attached to the current request. Actions tab displays the actions hooked to current request. Filters tab displays the filter tags along with the functions attached to it with respective priority.
However, this plugin should be used solely for debugging and/or in a development environment and is not intended for use on a production site.